Customised to the Max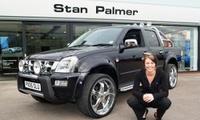 Car-enthusiast 18-year-old Nicky McArdle from Carlisle is now the proud owner of the most customised Isuzu Rodeo Denver Max in the UK.
As well as all the standard features, her Rodeo is also kitted out with a tow bar, 22" chrome alloys, an audio upgrade, reversing sensors, carbon kit, exhaust finisher, mats, bonnet protector, roller cover and roll bar, chequer plate liner, tinted windows, driving lamps and a customised leather interior with her name stitched in pink, bringing the £17,630 list price up to just over £32,000.
In the mere 10 months she has been driving, Nicky has built up an impressive fleet of vehicles. She already has a Mini One and a Porsche Boxster on her driveway!
Nicky said: "I knew I wanted a pick-up so my mum and I went round different dealers looking at all the options and all the accessories that were available. None looked as good as the Rodeo when they were kitted up.
"Stan Palmer had one on the forecourt loaded with accessories and I knew that was the one I wanted."
Thanks to first-class customer care, Nicky now relies on Stan Palmer Ltd to help her out with her other cars, and is now attracting even more attention than she did before.