Isuzu at the Royal Norfolk Show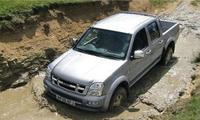 Isuzu (UK) Limited has joined forces with Constitution Motors and Hammonds of Halesworth, to promote the multi-award winning trio of Rodeo Denver 3.0 Automatic, Denver Max 3.0 and the Denver Max LE 3.0 at the Royal Norfolk Show on 28 and 29 June.
Exhibiting for the first time at the Show, billed as the largest of its kind in the UK and attracting nearly 100,000 visitors, staff will be on hand to show off the latest models and best deals in town. These include the five-seat, four-door double cab Rodeo Denver automatic, priced at only £14,990 on-the-road (excl VAT).
The offer is limited to models in Silver only and makes the Rodeo the best-value one-tonner on the market.
Standard equipment on the 3.0 litre turbo diesel Rodeo Denver includes: alloy wheels, air-conditioning, leather-wrapped steering wheel, radio/CD player, electric windows, ABS with EBD and three-point seatbelts for all five occupants.
The Rodeo Denver has won praise for its car-like driving characteristics and the optional Prodrive Performance Pack is proving highly popular. This boosts power from 130 PS to 155 PS at 3,800 rpm with torque growing from 206.5 lb ft to a solid 258.1 lb ft at the same 2,000 rpm.
Meanwhile, the Rodeo continues to win accolades including Japan's 2005 'Good Design Award', 'Best Double Cab Pickup' from Used Car Buyer magazine and 'Lifestyle Pickup Winner' from 4x4 magazine. Other awards include one from The Caravan Club and another from What Van? magazine.
With more than 600 trade stands, displaying the latest in farm machinery, livestock and local produce, it's no wonder more and more people are flocking to the area every year - there is something for all the family.