Rodeo pickup sets economy record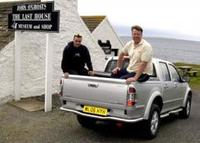 A standard Isuzu Rodeo pickup has set a new fuel economy record by achieving a remarkable 52.01 mpg after being driven virtually non-stop from Land's End to John o'Groat's.
The luxury four-door five-seat Rodeo Denver Max covered the entire 853-mile trip on a single tank of fuel, using only 16.4 gallons to achieve the record.
It is the first time a diesel-engined one-tonne pickup has completed the challenge and the entire exercise took 22 hours from start to finish.
The 3.0 litre Rodeo was driven by Chris Roberts, Dealer Principal at Isuzu dealership St Austell Motor Group, Cornwall, supported by Service Technician co-driver, Matt Saunders
Chris said: "We practiced a little beforehand to discover the most economical engine speed band which we established at around 1,600 rpm. That means about 38 mph but we allowed ourselves up to 60 mph on downhill stretches. The only extra was a cover for the load-bed which reduces drag, otherwise the Rodeo was straight out of the box."
He added: "We made sure we had a good meal prior to setting off and deliberately started at 8 pm to avoid heavy traffic, finally arriving at John o'Groat's 22 hours later after one meal stop and the inevitable toilet breaks.
"I first had the idea of an economy drive earlier this year as customers began telling me how economical the Rodeo was in day-to-day driving. We would definitely do it again but think this figure will take some beating from rival pickup manufacturers."
Winner of a host of accolades, the Isuzu Rodeo range now starts at £13,990 (on the road but excluding VAT) for the new 2.5 litre Denver Max.
All models have alloy wheels, air-conditioning, leather trimmed steering wheel, a Pioneer CD/tuner/MP3 player, tinted electric windows, ABS with EBD and three-point seatbelts for all five occupants.
The best-selling 3.0 litre models boast a 3,000 kg braked towing limit and all have especially long 12,000 mile service intervals.
And until 30 September, Isuzu is offering automatic transmission free of charge on all Rodeo Denver 3.0 Max and Max LE models.
This is a £1,000 saving, meaning the Rodeo 3.0 Denver Max auto costs £15,990 and Denver Max LE is priced at £19,990 (on the road but excluding VAT).