Vauxhall Fashion Scout announces Ones To Watch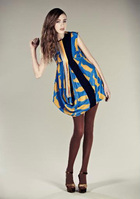 Vauxhall Fashion Scout is delighted to announce the SS11 line-up for London Fashion Week's leading showcase of new fashion talent – Ones To Watch. Featuring four exciting, innovative designers, Ones To Watch SS11 presents A.Hallucination, Charlotte Taylor, Georgia Hardinge and Lilee in a back-to-back show this September.
Over the past three seasons 'Ones To Watch' has successfully launched a whole new generation of emerging young designers. Alumni include Hermione de Paula, Alice Palmer, Ada Zanditon, Dean Quinn and this season's Merit Award winner Eudon Choi.
Design duo, A.Hallucination, consists of two South Korean Menswear designers, Hwan Sung Park and Chung Chung Lee. Between them, the two Central Saint Martins graduates have worked for a number of well-respected fashion houses including Burberry, Alexander McQueen, Tom Ford, Ozwald Boateng and Lie Sang Bong Paris. Their exciting vision of menswear is based on cutting edge tailoring immersed with contemporary aesthetic.
Inspired by the weird and the wonderful, from grannies to penguins, Charlotte Taylor's approach to design is quirky, playful and colourful: the work of a true Brit. This may come as no surprise when you know she previously worked for the notable British fashion label, Luella. Last season saw the critically acclaimed launch of the Charlotte Taylor label at Vauxhall Fashion Scout's Designer Exhibition during London Fashion Week.
After graduating from Parson's Paris School of Art and Design and winning the 'Golden Thimble' for Best Designer at her Graduate show, Georgia Hardinge returned to her birthplace, London, in 2009 to set up her own fashion label. Inspired by architectural shapes and sculpture, Hardinge experiments with cut to create beautifully structured garments, many of which have already gathered quite a following amongst celebs, including Little Boots, The Saturdays and Erin O'Connor.
Lilee is also an award-winning graduate from the internationally acclaimed London College of Fashion's MA course. The young designer was awarded the highly commendable prize at her MA graduate show at the V&A this January for her exquisite creations which expressed elegance and sophistication with an intricate attention to detail. Lilee has already completed a diffusion collection for the online fashion retailer ASOS, which will be on sale from this autumn.
"Vauxhall Fashion Scout's Ones To Watch is more than just a showcase of the best new design talent. We support and nurture our designers guiding them through the challenges of their catwalk show as well as helping them build sustainable businesses" Martyn Roberts, Director of Vauxhall Fashion Scout.
Ones to Watch is chosen by panel of industry experts who have extensive experience in working with and promoting new talent including vogue.com, Browns Focus, ASOS and Tank.
Vauxhall Motors is a keen supporter of style and design initiatives in the UK, driving excitement in visual fields including Vauxhall Fashion Scout, the Vauxhall Collective and the Vauxhall Art Car Boot Fair.
For further details, visit vauxhallfashionscout.com.