Extensive facelift and new engine for '07 Isuzu Rodeo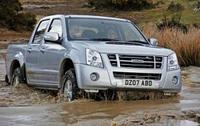 A substantial facelift, plush new interior and world-beating new common-rail diesel engine are highlights of the new '07 Isuzu Rodeo which enters showrooms from April fully armed to make a major impact in the hotly-contested UK market for 'lifestyle' one-tonne pickups.
Originally launched in the UK in November 2003, the Rodeo racked up three major awards in its first year of going on sale, being acknowledged as the most up-to-date and sophisticated in its class.
The Rodeo's tally of awards includes Japan's '2005 Good Design Award', 'Best Double Cab Pickup' from Used Car Buyer magazine and 'Lifestyle Pickup Winner' from 4x4 magazine.
The Rodeo also won The Caravan Club's '2005 Towcar of the Year – Utility Class' accolade plus 'Best-In-Class' title from What Van? magazine.
Now, with its fresh new look and outstandingly refined, powerful and fuel-efficient diesel engine plus improvements to its already plush interior, the new-look Rodeo is set to regain its crown.
The new three-model range will comprise the Rodeo, Rodeo Denver Max and later in the year a Rodeo Denver Max LE which will boast an uprated engine courtesy of Prodrive plus an ultra-luxury interior and lavish equipment tally.
All models feature safety features normally only found on passenger cars such as ABS with EBD, twin front airbags, door-intrusion beams, front and rear crush zones and three-point seatbelts for all occupants – even the rear centre passenger.
Because of their 1,000kg-plus payloads, all Rodeos allow a registered company to reclaim the VAT. Meanwhile, despite recent tax changes, company car drivers still enjoy a substantial saving compared to someone running a typical mid-sized saloon, estate, MPV or 4x4.
Worldwide Success
This fifth-generation Isuzu pickup is sold in vast volumes in more than 80 countries worldwide wearing, for example, 'Holden' badges in Australia.
Not only does it have a 37 per cent market share in Thailand where it is built, selling a staggering 167,000 units in 2006, but Isuzu has been Number One best-seller in the one-tonne pickup market since 1983.
Elsewhere, the Rodeo has a 79 per cent market share in Egypt, for example, 43 per cent in Israel and more than 32 per cent in Australia and New Zealand. Annual production exceeded 379,000 units in 2005 and Isuzu Operations Thailand is the biggest exporter of pickups in the world.
Meanwhile, the Japanese parent company of Isuzu is the Number One best seller worldwide for medium-duty trucks (gross vehicle weight between 6.1 and 16 tonnes) with 75,944 sales in 2004, for example.
Isuzu is also the biggest diesel engine producer in the world and on 7 November, 2006, signed a business agreement with Toyota of Japan giving Isuzu authority to take the lead in small diesel engine research and development. Toyota's share in Isuzu is 5.9 per cent.
Prices for the five-seat, four-door '07 Isuzu Rodeo range – which is exclusively 4x4 – are: 2.5 litre Rodeo (manual) – £13,990, 2.5 litre Rodeo Denver Max (manual) – £15,990 and 2.5 litre Rodeo Denver Max LE (manual) – £19,990 (all On-The-Road but excluding VAT).