Isuzu launch accessory range for summer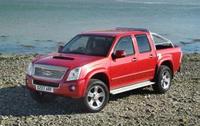 Despite only going on sale this April, owners of the new Isuzu Rodeo will be spoilt for choice when it comes to accessories, thanks to the unveiling of an extensive new range of styling, luxury and practical equipment, all carrying the same three-year/60,000 mile warranty cover as the pick-up itself.
For safe and secure towing a versatile new top of the range tow bar is priced at just £148.94.
To protect the load bed from dents and scratches, an under-rail bed liner kit is priced at only £140.42. At the same time owners can keep the floor neat and tidy with durable runner floor trays costing a reasonable £38.30 for a set of four.
Meanwhile, for operators using their Rodeo off-road or on building sites, washable and waterproof front seat covers are available for £80.85.
Aluminium running-board type side steps that enable practical, easy access to the cabin, whilst at the same time giving the pickup a much sharper look, are priced at just £295.00.
For owners who wish to accentuate the Rodeo's rugged good looks, a new selection of chrome and stainless steel items are available, such as chrome mesh grille £165.46; chrome bonnet trim £51.06; chrome tailgate trim £59.57 and stainless steel rear sports bar £382.98. All prices exclude VAT.
Prices for the Rodeo range, which has already won widespread praise for its refined and punchy new common-rail diesel engine, start at £13,999 for the Rodeo Denver, with the mid-range Rodeo Denver Max costing £15,999 (both OTR but excluding VAT).
Because of their clean and efficient engine combustion system, all Rodeos have long service intervals of 12,000 miles including an oil change and can tow up to 3,000kg braked.