Isuzu Rodeo offers major towing advantage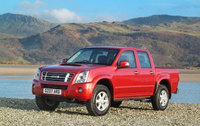 Isuzu's Rodeo pickup could be the saviour of thousands of businesses who tow trailers thanks to a major – but little understood – change in the law.
For the Rodeo one-tonne pickup is the only vehicle of its type to comply with new tachograph legislation, giving it a huge commercial advantage over key competitors.
Any pickup registered on or after May 1 last year that is used for towing for hire or reward with a gross train weight of 3,500 kg is required to have a tamper-proof digital tachograph. This uses a credit card-type record to monitor driving hours and journey times.
It means even a small trailer would exceed the 3,500 kg limit, affecting customers such as plant hire operators or those in the towing or distribution industry.
Rodeo owners can contact tachograph supplier VDO Siemens – which has more than 1,000 agents throughout the country – for the unit. If required, dealers can arrange the fitment on behalf of the Rodeo customer.
The new system uses an encrypted sender unit fitted to the gearbox which Isuzu has already designed to be tachograph-compatible. None of Isuzu's one-tonne pickup rivals have this facility.
Isuzu Brand Manager, Kenyon Neads, said: "This is clearly a great sales opportunity for our dealers and we are providing them with detailed advice on how to exploit this change in the law. Any operator not using a digital tachograph faces a hefty fine."
He added: "We will also be direct mailing 40,000 towing-related businesses in the UK during July explaining the situation, backed by appropriate marketing material. This tachograph advantage applies to both the new '07 Rodeo and its predecessor."
Priced from just £13,999 On-The-Road (excluding VAT), the new '07 Rodeo Denver 2.5 litre diesel turbo has attracted critical acclaim and offers a braked, 3,000 kg towing limit and a 1,000 kg-plus payload.
Winner of countless awards for being the most-car-like one-tonner on the market, the Rodeo features a four-door, five-seat body and generous equipment such as air-conditioning, electric windows, ABS with EBD, alloy wheels and a radio/CD/MP3 player.
Service intervals are a lengthy 12,000 miles including oil change and the warranty is a 'bumper-to-bumper' three year/60,000 miles plus six years' anti-perforation cover.
Rodeo owners also benefit from full membership of Isuzu Assistance which provides three years' cover comprising 'at home', roadside and European repair or recovery.