Isuzu dealer helps raise £7,000 for Cancer Research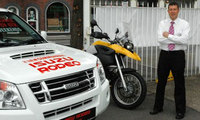 Car dealer Holdcroft Subaru and Isuzu, Newcastle, helped raise nearly £7,000 for Cancer Research by supporting a motorcycle charity ride from John o'Groat's to Land's End.
Dentist Nick Daily-Hunt and his brother-in-law Adrian Killham, a research and development engineer, both from Newcastle, rode the 874-mile journey in 15.5 hours, through frost, sun and heavy rain.
Careful planning and an attentive back-up crew ensured they did not run out of petrol and were well-nourished throughout the long journey, stopping to refuel only six times.
Nick's father, Roger, died following a 12-month battle with pancreatic cancer and within weeks his sister and Adrian's wife, Sarah, was battling a brain tumour. Although Sarah has won the first round following surgery, it is this reason why the family wish to give something back to help others in the same position.
Dave Brennan, Dealer Principal, Holdcroft Subaru and Isuzu, said: "When I heard about Nick's plight, I was determined to help. After talking to my colleagues we decided to sponsor their motorcyle ride by providing an Isuzu Denver Max to act as a support vehicle."
After they reached their destination exhausted and tired but jubilant, all agreed that they had shown how proud they were of Sarah's quiet strength and positive attitude and reflected how suddenly lives can be turned upside down without warning.