Photography firm puts Isuzu Rodeos to tough test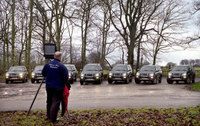 An Oxfordshire photography firm is putting eight Isuzu Rodeos to a tough test as far as towing is concerned.
For Gillman and Soame is using the rugged Rodeos to tow trailers loaded with alloy staging rated at 2,800 kg – 200 kg below the pickup's gross braked limit.
The staging is used to support up to 1,500 people for group photographs, mainly involving schoolchildren but also the Armed Forces.
The company has bought one Rodeo Denver outright and is leasing the other seven as part of a three-year contract via Lombard. The supplying dealer was Adams Brothers Limited of Aylesbury.
Photographic Manager, Terry Harrison, said: "There aren't many vehicles man enough for the job and the Mitsubishi L200 we tried didn't have the capacity. We have previously run Land Rover Discoverys but they are too expensive.
"We tested the Rodeo for a week and were so impressed we went ahead with the order. Isuzu has a good reputation for reliability so we are confident we have made the right decision."
Winner of a host of accolades, the Isuzu Rodeo range now starts at £13,999 (on the road but excluding VAT) for the 2.5 litre Denver.
All models have alloy wheels, air-conditioning, leather steering wheel, a Pioneer CD/Tuner/MP3 Player, tinted electric windows, ABS with EBD, rear step bumper and three-point seatbelts for all five occupants.