Royal Highland show welcomes Isuzu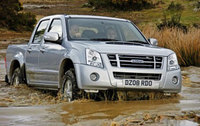 Isuzu has again joined forces with the Agricultural Society of Scotland to promote its newly-launched Rodeo range at the Royal Highland Show on June 19th-22nd 2008 (Stand no. 17, 10th Avenue).
Its class leading 2.5 litre common rail Rodeo Denver is priced at just £13,999 (on-the-road excluding VAT) and is respected as one of the most hard-working and durable commercial pickups on the market. With an excellent tally of standard equipment, a class-leading towing capacity of 3000kg and best-in-class economy and emissions, it's of great interest to the Scottish farming community.
The Show is a four-day countryside festival showcasing rural and agricultural life. It is billed as Scotland's biggest outdoor event and is one of the UK's top agricultural shows attracting more than 200,000 visitors.
Kenyon Neads, Isuzu Brand Manager, said: "With its class leading towing capacity, the Rodeo has always been particularly popular with the farming community but in an attempt to broaden appeal and satisfy demand, two brand new models will be unveiled during the summer adding to the Isuzu stable."
He added: "Our long-standing affiliation with the Show is the ideal opportunity for us to show-case the range. With long service intervals and bullet-proof reliability, they make sound financial sense."
At the top end of the range, the 3.0 Denver Max LE, with a choice of manual or new automatic, will be available from £19,999 on-the-road (ex VAT). Meanwhile, a common rail 2.5 litre 4x2 Single Cab, with a towing capacity of 2,500 kg will be available at £9,999 on-the-road (ex VAT).