Rodeo bull riders raise money for charity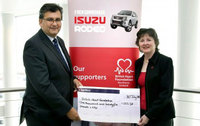 Isuzu (UK) Limited treated the 70,000-strong crowd at the Balmoral Show 2008 to some wild-west wackiness with a bucking bull, raising much needed funds for both local and national charities.
During their first attendance at the show, local Isuzu dealers were out in force to man the 'Rodeo' bull and give advice and information on all Isuzu models as well as the best deals in town.
Those brave enough to take their chances helped contribute to the £3076.73 raised on behalf of St Patricks Primary School, The Northern Ireland Leukaemia Research Fund (NILRF) and the British Heart Foundation.
With the money to be distributed in equal parts between the three charities, St Patricks Primary School intend to put their share towards an interactive whiteboard, whilst both the NILRF and The British Heart Foundation continue to tirelessly campaign to fund pioneering leukaemia and heart research, and promote better awareness of the illnesses and their causes.
Meanwhile, the Rodeo continues to win accolades for its class leading 3000 kg towing capacity, economy and emissions figures, as well as being the only pickup to accept the Transport Office's new mandatory Digital Tachograph system.