Burnham Garage joins forces with Isuzu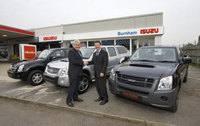 Isuzu (UK) Limited increases its dealer representation for its one-tonne pickup range following yet another appointment – Burnham Garage Limited, Slough.
In addition to the nine new appointments so far this year, there are a further 11 'hot prospects' according to Kenyon Neads, who heads up Isuzu (UK) Limited, which has an ultimate Isuzu network goal of 100 dealers.
The new appointment further highlights the success of the new Isuzu common rail offering which has flourished despite some challenging trading conditions. With the range starting at just £9,999 CVOTR and two new derivatives being added to the range - a new 3.0 litre Denver Max LE in manual or automatic transmission and a new entry-level 2.5 litre 4x2 Single Cab – there has never been a better time for new dealers to 'get on board'. The recently launched and highly sought after 'Rodeo Sport', one of the most highly specified Pick Ups ever launched in the UK, adds an interesting 'lifestyle' twist to a dependable workhorse.
Michael Goodchild, Dealer Principal, said: "We are eager to set our experienced staff the task of maximising sales in the Slough area with the versatile Isuzu brand."
Neads said: "The reason for our success in attracting high quality, skilled and enthusiastic new dealers is simple; the highly acclaimed new common rail Rodeo range offers dealers tremendous sales potential, with strong technical, managerial and marketing support from ourselves. We only sell Pick Ups, and prospects are coming to us now in droves because of that specialist understanding."
He added: "In addition, many see Isuzu as a comfortable 'bolt-on' to an existing franchise. Set up costs are sensible with many aftersales and servicing opportunities."
Meanwhile, the Rodeo boasts a host of accolades including Japan's 'Good Design Award', 'Best Double Cab Pickup' from Used Car Buyer magazine and 'Lifestyle Pickup Winner' from 4x4 magazine. Other awards include ones from The Caravan Club and What Van? magazine.