The search is on for the UK's skip-hop Champion 2010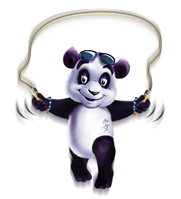 Skip-hop is the latest craze sweeping the nation's playgrounds and the search is on to find which kid has the ultimate moves to be named skip-hop champion 2010.

An infinitely cooler alternative to traditional skipping, skip-hop is a fusion of sports skipping and street dance that first rocketed to fame in the CBBC series Jump Nation. skip-hop is officially the hippest way for kids to keep fit, and all they need to get started is a skipping rope!

Panda Drinks has joined forces with the experts at skip-hop UK to get everyone skip-hopping this summer and to discover which kids, whether practicing in the playground, the park or their back garden, have to potential to be crowned skip-hop Champion 2010.

They want anyone aged 12 or under who thinks they might have what it takes to record a short film of them showing of their best skip-hop techniques (no more than one minute in length).

To make the grade skip-hoppers will have to demonstrate the speed, agility, skill and creativity needed to make it as a future skip-hop star!

To get expert insight on skip-hop and top tips for making filming entrants can visit pandadrinks.com. The competition closes on 31st of October.

Skip-hop UK will judge the entries and name the champion who will win a fantastic Eurocamp seven-night family getaway at any of its parcs. The ideal opportunity to perfect those skip-hop moves in the open air!

Two skip-hoppers will be chosen as runners up, both becoming a skip-hop star for a day when the guys from skip-hop visit their school to deliver a skip-hop workshop and a skip-hop presentation to the whole school with them as the star! They will also receive a goodie bag containing everything they need to take their skipping to the next level and a year's supply of Panda to keep their thirst quenched while they practice.

Scott Robert-Shaw, co founder of skip-hop UK, comments: "There is no better way to develop your fitness levels and have lots of fun at the same time as skip-hop . There's some amazing talent out there and we hope that by launching skip-hop Champion 2010 with Panda Drinks, we'll encourage even more kids to get fit and get skipping!"

James Nichols, Panda Drinks brand manager, adds: "We've been amazed to see skip-hop become the overnight playground phenomenon it has!

"It's good to know that the tradition of skipping in the playground has been reinvented for a new generation of kids and we can't wait to see the skipping talent demonstrated in our search to find the skip-hop champion 2010."

To get some skip-hopping inspiration in advance and to download the Panda Guide to skip-hop visit: pandadrinks.com

Visit skip-hop.co.uk to find out how to find a skip-hop class near you or to get your hands on all the latest skip-hop gear.

Here are some more hints and tips to help you take your skipping to the next level before you enter:

• Explore the Panda Does skip-hop section of the site, including skip-hop UK's brilliant tutorial video!
• Choose some of your favourite skip-hop moves and link them together to make a routine, practice so that one move flows into the next.
• Use simple moves as a link between more tricky moves to help you keep the routine steady.
• Practise your complete skip-hop routine, once you can perform it three times in a row with no mistakes you are ready to film.
• Keep you routine simple and practice it to music to help you keep your rhythm. A simple routine with no mistakes is better than complicated moves that go wrong.
• Get an adult to help film you skipping and make sure they hold the camera still!
• Download the Panda Guide to skip-hop for even more great tips and ideas.
• Extra prizes will be awarded for the most original routine, the skip-hopper having the most fun, the skip-hop routine that makes us laugh the most and lastly the best synchronized routine with two or more skippers.