Sainsbury's and Nectar apps provide personalised offers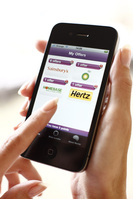 Everyday shopping has become a little bit sweeter as Sainsbury's and Nectar announce two new apps for the App Store. The Sainsbury's and Nectar Apps for iPhone and iPod touch give shoppers access to exclusive, personalized offers as well as the ability to collect Nectar points quicker than ever before. Nectar collectors simply opt in through the app to receive personalized offers from Sainsbury's and their favourite high street retailers. Customers can choose between the Sainsbury's or Nectar App depending on their preference.
The Sainsbury's and Nectar Apps have been created to ensure that customers always have great offers at their fingertips. Recent research conducted by Nectar highlighted that more than 90% of respondents were interested in having exclusive bonus point offers delivered to them via their iPhone or iPod touch.

Features of the new Sainsbury's and Nectar Apps include:
Exclusive and personalised Nectar point offers relevant to the individual collector
A store and reward locator to pinpoint the nearest location to collect and spend points
Instant access to check Nectar points balances on-the-go
The Sainsbury's App will also provide information about the Sainsbury's in-store promotions and news.
Jan-Pieter Lips, Nectar managing director, commented; "The launch of our new app for iPhone and iPod touch means that shoppers can literally carry Nectar point offers around in their pocket and collect them wherever they are. Exclusive, personalised offers are available to them at their fingertips."
Mike Coupe, Sainsbury's Group Commercial Director, adds; "Our customers are always looking for ways to save money and time and the Sainsbury's app will allow them to do just that. With our app you will be able to quickly find your nearest Sainsbury's and receive exclusive, personalised bonus points offers on the go. Through our partnership with Nectar, our customers will never miss out on deals and be able to reward themselves."
The Sainsbury's and Nectar Apps are available for free from the App Store on iPhone and iPod touch or at itunes.com/appstore.