Volvo - Tougher competition demands smarter production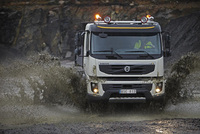 The lead time from drawing board to finished product is getting ever shorter. And the consumer's role in the product development process is becoming increasingly clear. Even large industrial corporations are pursuing a fast pace and are quick off the mark to bring customers into the loop in product development. When Swedish truck manufacturer Volvo Trucks decided to develop its new construction truck – the Volvo FMX – customer participation played a central role in the process.
The truck industry is one example in the industrial sector that is becoming increasingly customer-driven, at least according to Volvo Trucks. The lifecycle of a truck model is admittedly still very long, about 10 to 20 years, but customer adaptations and individual variations are becoming increasingly common.
"We can see that a more segmented market is developing, in which fewer customers are satisfied with accepting a standard truck. Most of our customers influence the design so that the truck matches their individual requirements," says Gunnar Eliasson who is market manager for the construction segment at Volvo Trucks in Europe.
Global competition is imposing tougher demands on companies' ability to deliver new products to the market. "The race is heating up," says Jeffrey Liker, world-renowned professor at the University of Michigan in the USA.
Jeffrey Liker is Professor of Industrial and Operations Engineering and among his publications is the best-selling book 'The Toyota Way'. In the course of his research he studied what makes the Japanese car manufacturer unique, and this in turn led him to an in-depth examination of the lean production method, where the focus is on deleting everything unnecessary from the development process and on cutting development lead time.
"Lifecycles for all products are being cut as competition powers ongoing development. Nobody wants to risk losing market shares," he explains.
As the end-user enters the product development process, many traditionally technology-focused corporate cultures face major challenges, as he points out, "All companies say that they work close to their customers, but far from all do so. Because it's difficult."
This approach requires time together with customers; it requires a method for identifying customer requirements and then transforming them into technical specifications.
When Volvo Trucks developed its most recent model, the Volvo FMX – a truck designed for the building and construction sector – a new approach was adopted in the product development process. Development would take place together with customers, drivers, sales staff, and marketing specialists – and in a way that had never previously been attempted.
"We wanted to ask two questions: what was good about the existing model that we offered construction customers and what changes would they like to see," relates Gunnar.
Gunnar and a number of his colleagues embarked on a tour of Europe with the aim of drawing up a wish-list for the forthcoming model. That list was long.
After this Europe-wide dialogue was summarised, it was time to arrange priorities. At the top of the 'to-do' list was a new cab exterior, better-tailored rear-view mirrors, sturdier and more service-friendly bumpers, better-positioned air intakes for the engine and more service-friendly headlamps.
The task of converting the 'wish-list' into prototypes and full-scale models went to product developers and designers.
"However, it's not enough to just do what it says on the list. We must go one step further and surprise our customers, add that little bit extra. Our team was a mixed bunch of people from marketing and product development who together had the ability to spice things up," recalls Gunnar.
And that is exactly what marks the biggest difference between lean and traditional product development, according to Jeffrey Liker.
"In lean production, specialists work together freely across several departments and areas, all so as to be able to better meet customer demands. At the same time, this approach promotes constant learning about the production processes and understanding of how product development is conducted. Traditional product development, on the other hand, takes place in separate cells where each development group does its utmost within its own specific area – but with very little exchange of experience between the various departments," he explains.
Under immense secrecy and after signing a strict confidentiality agreement, a number of customers were then brought together in various customer clinics to evaluate the new construction truck. A model of the truck was displayed in a studio and on the wall there were pictures of the new truck in various working environments.
"The new, more powerful appearance was highly appreciated when we showed the truck in our customer clinics. The participants recognised the Volvo design just as we had hoped," says Gunnar.
In another studio there was a cab with all the new equipment fitted. The customers could look, feel and try out the equipment and offer their feedback: for instance, how about the new ladder – was it correctly positioned so the driver could easily get out of the cab and conveniently check the load platform without having to engage in acrobatics?
Gunnar feels that the project was very successful with short lead times, and thanks to the fact that both drivers and customers entered the project early on in the process, the development engineers were better able to spend their time on what mattered most. As he says, "The benefits of inviting customers into the product development process far outweigh the risk that information might spread to our competitors."