Male grooming booms in hairy times!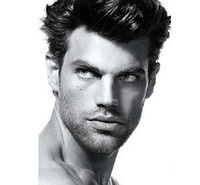 When the going gets tough, the tough get manscaping (the act of removing, trimming and shaving body hair), according to UK's biggest electrical retailer Currys.

Analysis of figures show that the retailer has reported unprecedented sales across all its male grooming lines – from beard and body trimmers to nasal clippers and total body wax kits, despite the recession.

From calming unruly eyebrows to tidying up mankini-lines, men have been paying very close attention to more than just the hair on their heads. But unlike their famous metrosexual counterparts who are plucked and preened to perfection by the professionals, men have been attending to their bodily man gardens in the privacy of their own homes, rather than endure the clinical and often self-conscious experiences of the salon.

Figures show that Currys, which has extended its health and grooming offering to encompass over 400 online products, has enjoyed increased sales of up to 19 percent year-on-year outside of the key Christmas period. Further analysis also shows that, within the last three years, beard trimming has grown by 71 percent in units. Across its male grooming lines (spanning nose & ear trimmers, total body wax kits, complete body trimmers and hair clippers) sales have, on average, gone up by a massive 46 percent year-on-year for the last four years, with hair clipping within Currys forecasted to have a strong year with growth of up to 20 percent.

The male grooming industry, which has tripled in value over the past seven years is estimated to be worth over £781m, and continues to grow at a colossal rate.* "Men are become increasingly aware of their appearances beyond using face creams and wearing better clothes. They're paying much more attention to detail, like clipping nasal hair, shaping unruly eyebrows, trimming excessive body hair or even doing away with it altogether for a tidier look.

"The rise of celebrity metrosexuals has made male grooming a more acceptable, if not necessary form of masculine maintenance, with private at-home grooming preferred to the more conspicuous confines of the salon. Sustained sales across all our male grooming lines despite the recession is a true testimony to this trend where men are actively purchasing these products to keep up their appearances, rather than receiving these as gifts from a well-meaning relative dropping 'subtle hints' about their loved one's personal grooming."

Currys is the UK's biggest electrical retailer with a network of over 500 stores nation-wide, including out of town stores, high street Currys.digital stores and a Currys Megastore in the Midlands. There are a range of fridge freezers and lcd tv dvd at Currys and PC World which has a range of cheap ipad deals.