Citroen's strong LCV presence at Interbuild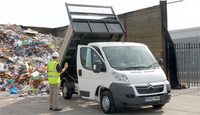 Citroen's stand at the Interbuild/Glassex Show (stand G10/Hall 4, NEC October 17th - 20th) features the Company's comprehensive range of specialist-bodied Ready to Run LCVs, which are designed to suit the needs of the building services and glazing trades.
Robert Handyside, Citroen's Commercial Vehicle Operations Manager, comments; "The Citroen Interbuild/Glassex Show stand provides a great opportunity for customers in the construction and glazing trades to experience Citroen's wide range of cost-effective and efficient transport solutions."
On show is the innovative Ready to Run Relay-based Supertrucks low loading glass carrying van. This unique vehicle is designed to provide higher standards of operational efficiency and safety. The vehicle has a drop-frame chassis to give an exceptionally low load deck height of just 400mm. This allows safe, easy walk-in accessibility for the crew and, thanks to this, it is also safer and easier to load/unload glass from the two full length, full height internal racks.
Alongside the Ready to Run Relay Supertrucks glass carrying van is a Ready to Run Relay Tipmaster Tipper, which has one of the highest payloads of any 3.5 tonne gvw tipper in the UK. As standard, the Ready to Run Tipmaster Tipper package includes an all-steel underframe, floor and headboard, complete with extruded alloy body dropsides and tailboard, with recessed fasteners. The CitroenReady to Run Relay Tipper package is also available with a comprehensive range of body options, including cage sides and an all-alloy underframe, which increases payload by up to 100kg.
Representing Citroen's award-winning panel van range at the Interbuild/Glassex Show is the Dispatch compact panel van. Available with a choice of two body lengths, two roof heights, three engines, two trim levels and two payload ratings, the Dispatch is an ideal choice for many building trade transport applications. A recent move has seen all Dispatch panel vans fitted with Trafficmaster Smartnav satellite navigation and Trackstar stolen vehicle tracking systems as standard to boost vehicle productivity and further improve security.