Renault Trucks sales packages with 3 year warranty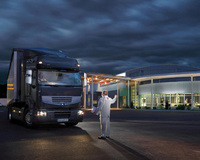 Renault Trucks UK Ltd is launching two new sales packages this October, Renault Trucks OptiHIRE and Renault Trucks OptiCARE, both of which have been designed to help customers put new vehicles on the road, whilst reducing operating costs and boosting profitability. Both packages contain a 3 year Renault Trucks Expandys warranty which is a reflection of Renault Trucks' confidence in its brand.
The Renault Trucks OptiCARE package is available across all truck products, from 7.5 to 44 tonnes. The package includes a 3 year Expandys Warranty and the popular one day Optifuel Driver training package, which covers safe and efficient driving and can contribute towards a driver's CPC.
RenaultTrucks OptiHIRE is a contract hire package available on Renault Trucks' Long Haul range products; Renault Premium Long Distance and Renault Magnum. The package features all the benefits of Renault Trucks OptiCARE, with the addition of a competitive contract hire agreement from 2 to 5 years and Renault Trucks' Start & Drive repair and maintenance for the life of the contract. Renault Trucks OptiHIRE is offered in conjunction with Renault Trucks Financial Services.
Nigel Butler, Commercial Director, Renault Trucks UK Ltd, says: "We understand the economical and operational pressures faced by our customers in the current climate. With rising fuel costs and pressure to cut down the cost of moving a load, these packages offer an effective solution to enable them to put new vehicles into service, minimising their costs and risks, while increasing profits."
Both of the new packages are supported by a dedicated network of over 60 authorised Renault Trucks dealers across the UK and more than 1,150 Europe wide. The packages are available for new factory orders from 1st October until 31st December 2010 for UK customers only.