How buying your own home could save you money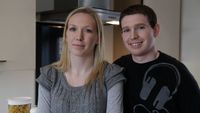 If you dream of owning your own home, but think you'll never afford to, then think again.

With the help of HomeBuy Direct you could escape the rental trap and even save money.

Patsy Aicken, sales manager for Redrow Homes (Yorkshire), explained: "Dozens of people across Yorkshire and North Lincolnshire have taken the opportunity to step onto the property ladder with HomeBuy Direct. The scheme offers certain groups of purchasers the chance to snap up a brand new home with the help of an equity loan, jointly funded by Redrow and the Homes and Communities Agency."

HomeBuy Direct is open to purchasers who have an annual household income less than £60,000, including first time buyers, those re-entering the property market following a change in circumstances such as divorce or the breakdown of a relationship and potentially families needing room to grow.

First time buyers Lorna and Daniel Collinson, both 25, were delighted to discover they were eligible for HomeBuy Direct.

Mum-of-two Lorna explained: "We realised that renting was a waste of money and wanted to buy our own home but thought we would only be able to afford a one-bedroom flat, which wouldn't be suitable."

HomeBuy Direct made owning their own home at Redrow's Priorpot Mews venture in Malton more affordable as they could take out an equity loan for up to 30% of the purchase price.

Crucially, the equity loan is interest free for the first five years.

Customers own 100% of their home from day one – but only have to pay between 70 and 85% of the purchase price. They can start purchasing the remaining share in instalments after just 12 months.

"The prospect of buying our own home was daunting at first, but the Redrow staff were amazing and kept us informed, enabling us to enjoy the excitement of it all," said full-time mum Lorna.

"We're actually saving money now as the mortgage repayments are less than the rent on our old home in Whitby and instead of throwing our money away, we've got something the children can inherit in the future."

Priorpot Mews is within walking distance of Malton town centre, with easy access to York; yet is also close to the countryside and about half an hour's drive from popular coastal resorts like Scarborough and Filey.

Priorpot Mews features a selection of three and four-bedroom homes. Prices start from £140,000 for a three-bedroom 'Norton' style home, but with HomeBuy Direct still available at this location customers can find themselves catapulted onto the property ladder for an initial outlay of less than £100,000.

A three-bedroom 'Malham' show home is open for viewing, Thursday to Monday from 10am to 5.30pm.