Gulf Air begins services to Colombo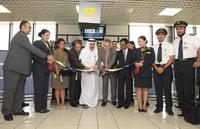 Gulf Air, the national carrier of the Kingdom of Bahrain and the carrier with the largest Middle East international network, re-commenced its services to Colombo, the capital of Sri Lanka this month.

The inaugural flight took off from Bahrain International Airport carrying Gulf Air Chief Executive Officer Mr. Samer Majali and a team of officials and journalists, seen off by senior officials from Bahrain Civil Aviation Authority, Bahrain Airport Company and Gulf Air executives.

Mr. Samer Majali commented, "Our relationship with Sri Lanka started nearly 35 years ago when we started our services to the capital Colombo in 1976 and flew until 2002. Over the years, Gulf Air has been the favorite airline not only for thousands of Sri Lankans living and working in Bahrain but also for Bahrainis who have been flocking to this beautiful country for vacation for many years.

"Gulf Air has also been a key link for hundreds of Sri Lankan businessmen exporting goods ranging from tea, coffee, coconuts, rubber to cinnamon to Bahrain and beyond in the Middle East region."

"Now that peace has returned, I am glad the time has come for us to re-connect with Sri Lanka. The country is back in full action with its economy springing back to its dynamic past. I personally see there is a huge business and tourism opportunity for both countries as we recommence services."

Mr. Majali continued, "With Bahrain's 'business friendly' economic policies and its strategic location at the door-step of Saudi Arabia offering a multi-million dollar business market, the re-commencement of service to Colombo will be a great news for the Sri Lankan business community as they now have a direct and non-stop service to Bahrain.

"As for Sri Lanka, with its rich, tropical forests, palm-fringed beaches, cooler mountains, deep-rooted culture and heritage besides its famous gemstones, it is undoubtedly one of the world's famous tourist attractions. I am sure it will be another fabulous addition to our 44 destinations sought after by our customers" Mr. Majali concluded.

With five flights a week departing at convenient timings, passengers - both businessmen and leisure travelers alike - will easily find a flight to a destination of their choice.

While all passengers will be able to enjoy the luxurious facilities and service onboard Gulf Air's brand new A320 aircraft, Falcon Gold premium passengers will have the added luxury of relaxing at the exclusive Gulf Air lounge at the Bahrain International Airport while waiting for their connecting flights.

Gulf Air operates 10 weekly flights between Bahrain and Colombo.

Gulf Air will be commencing services to three more destinations between now and December 2010, Basra from 31 October, Isfahan from 2 November and Addis Ababa from 6 December 2010.