iFLY Dubai launches 'Ladies Day'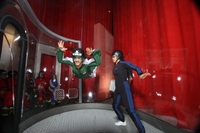 iFLY Dubai, one of the most popular leisure destinations for tourists and residents in the Middle East, has launched "Ladies Day" to accommodate the growing requests from local and expatriate ladies.

iFLY Dubai has established itself as one of the safest "once in a lifetime" experiences where participants can fly on a cushion of air or perform aerobatic twists mid air. As the attraction uses a transparent acrylic tube to deliver this adrenaline packed experience, every Wednesday a special tailor-made curtain will be placed over the glass tube to ensure that female participants can feel comfortable and enjoy the excitement and exhilaration of indoor sky diving in privacy.

Arnaud Palu, Chief Operating Officer for Majid Al Futtaim Leisure & Entertainment commented: "iFly Dubai is a totally unique experience, unlike any other and we want everyone to have the opportunity to experience it. We are sensitive to the cultural practices of the region and appreciate that some ladies may prefer to experience iFLY Dubai in a private setting. It is our mandate to exceed the expectations of all our customers and we look forward to welcoming more patrons to iFLY Dubai through our 'Ladies Day" initiative."

iFLY Dubai is part of Playnation at Mirdiff City Centre and will run 'Ladies Day' every Wednesday from 11:00 am until 10:00 pm.