Ford tops UK reliability survey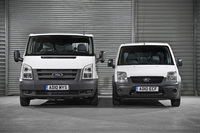 Ford has been named as Britain's most reliable van manufacturer in an authoritative survey of the country's 50 largest contract hire companies. In a double success, Ford Transit was named the most reliable van for the fourth year running, with the Ford Transit Connect in third place for the second year running.
The annual reliability survey is published by Fleet News magazine and polls the UK's leading leasing companies, which together operate over 1,000,000 vehicles.
The leasing and contract hire companies – all running multi marque fleets – rated vehicles according to breakdowns per 100 of each model. This year's survey covered a total of 840,000 cars and 183,000 light commercial vehicles.
Kevin Griffin, Ford of Britain fleet director, said: "Reliability and minimising off-road time is critical for the commercial vehicle operator, whether it's a small van or a large truck. As commercial vehicle market leader for 46 years, Ford supports the most efficient use of a vehicle whilst on the road. The independent survey from Fleet News is a key element for all manufacturers' understanding of our fleet customers' views.
"We are delighted that we continue to be market leader and that we continue to offer the most reliable commercial vehicles in service today. I would like to thank all our commercial vehicle customers and Fleet News for carrying out this detailed survey," he added.
Ford's investment in commercial vehicles – at Dunton engineering centre in Essex, at Dagenham where the majority of Transit diesel engines are built, and at Southampton assembly plant – ensures they continue to offer leading reliability and cost of ownership.
Stephen Briers, editor of Fleet News said: "Businesses that depend on vehicles take reliability very seriously, and can't afford downtime through breakdowns and incur extra costs. This is the largest reliability survey of its kind, so any vehicle with a top 10 placing will represent a safe bet for any organisation or private motorist."
Britain's best selling car, the Ford Fiesta, was placed sixth in the survey results.