New Proton dealership offers customers better deal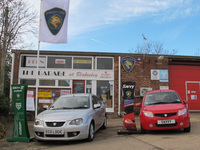 As motorists continue to watch their pennies, affordable car manufacturer Proton has announced its new partnering with a dealership in Blakesley near Towcester. Located on Quinbury End, The Garage at Blakesley has become the Proton main dealer for the area.
The garage, originally built back in the early sixties, was then known as "Tanswells of Blakesley" and was the local Morris dealer, for the area, which in later years became "Rover dealership" until the garage finally closed in 1994.
In 1995, Dealer Principal Colin Hilbourne and a group of loyal friends re-opened the derelict garage, injecting a new lease of life and together with many thousands of pounds in equipment and training, whilst re-naming it "The Garage at Blakesley Ltd". The aim then some fifteen years ago, is the same today, which is to deliver a professional, reliable and trusted service to the locality, to all makes and models of vehicles
Some five years ago, "The Garage at Blakesley" started to specialise in Daihatsu, but with stock difficult to source they turned to another trusted, reliable brand "Proton", who they now represent as the official dealer for the area, in sales, service and parts.
Colin Hilbourne, Dealer Principal for The Garage at Blakesley, commented: "We are delighted to have become Proton's main dealer for the area, and hope this reflects our strong reputation as the garage that cares and retains our independence. We have a lot of passion about the Proton brand – thanks to their Lotus inspired design, Proton's cars are very stylish, fun to drive and have fantastic handling – it's also a brand that offers motorists great value for money, coupled with the reassurance of delivering reliability – especially with the three year warranty available."
Stocking a wide selection of new and used motors with demonstrators available for test drives, The Garage at Blakesley offers customers an ideal platform to view Proton's range of cars which include the fun and spacious 5-door Savvy city car, the sporty Lotus inspired 3-door Satria Neo and new Satria Neo Sport, 5-door GEN-2 family hatchback and the 4-door GEN-2 saloon and LPG dual fuel GEN-2 ecoLogic range. Starting from £7,995 OTR, 'The Garage at Blakesley' will offer customers a whole host of deals on a new Proton.
Colin continued: "There really is something for everyone in the range – many of our green thinking customers in the area will be impressed by the LPG dual fuel GEN-2 ecoLogic which is a real recession busting vehicle running on LPG and currently priced locally at 62 pence per litre – what a way to save money in these tight times. The Savvy is a great all rounder, frugal on fuel with a great three year service deal thrown in as well. We're hoping to also attract some of our younger customers with the sporty looking Satria Neo which offers great style, performance and road holding but without the expensive insurance of a sports car.
"The cars come with numerous extras as standard and with a concise colour range to choose from – giving freedom of choice to customers to pick the model and colour they desire. It's our aim to bolster the Proton used stock to give the customer further choices on quality used vehicles at affordable prices during these tough financial times. Our dedicated and expert team look forward to welcoming customers and proudly show them the Proton offer."
Using the latest diagnostics equipment, The Garage at Blakesley offers an MOT test centre 4, servicing and repairs for all makes of vehicles, as well as a breakdown recovery service, collection and delivery service, Find-A-Car service, and sale or return service for Carsales.
Commenting on the new partnership, Simon Park, General Manager of Sales & Marketing for Proton Cars (UK) Ltd, said: "We are pleased to welcome The Garage at Blakesley to our expanding network and offer customers more choice in the area. With a growing demand for more cost-effective motors, Proton makes for a sensible choice of car."
To find out more about any of these offers or arrange a test drive, visit proton.co.uk.