Volvo tests new technology in timber hauler project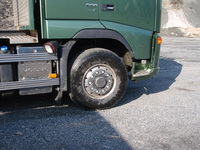 Timber transport on steep and slippery forest tracks hauling gross weights of 74 tonnes imposes immense demands on the timber rig's drive properties. That is why Volvo is testing hydraulic front-wheel drive on one of the trucks in the ETT - 'En Trave Till' (One More Pile) timber haulage project.
"We can already see major improvements in driveability," says Lena Larsson, Volvo's manager for the 'One More Pile' project.
One of the three test trucks in the "One More Pile" project was recently equipped with hydraulic front-wheel drive which can be engaged when the truck is driving on slippery tracks, on steep slopes with poor grip and in tight turnarounds. The combination – a Volvo FH16-660 with link and trailer – hauls a 74 tonne gross weight and is testing the possibility of feeding timber from the forest to a tractor with link and trailer and also the viability of hauling the wood all the way to the sawmill and other industrial users.
"This test gives us unique scope for seeing how best to optimise hydraulic front-wheel drive for different driving conditions," says Lena, "The extra-high gross combination weight is providing us with a huge amount of information and experience on how best to exploit hydraulic drive."
Well-known technology in a new application
Hydraulic drive is nothing new in itself, but its use in really heavy timber-haulage combinations is entirely new. In this test, Volvo has chosen to fit two separate hydraulic motors (one in each front wheel), integrated in the wheel hubs and driven by a hydraulic pump that is coupled to the engine's power take-off.
"In this way we get the possibility of driving the front wheels independently of the gearbox and can maintain drive to the front wheels even during gear-changes or when the gearbox is in neutral," explains Lena.
The improvement in driveability is clearly noticeable. On extremely steep slopes and on slippery surfaces, the truck continues making its way where it would otherwise come to a standstill.
"We've only just started the test, but have already noted considerable potential," continues Lena Larsson. "We will continue our analysis throughout the duration of the project until 2012 and follow it up by examining how we can use this technology for optimum driveability."