Win with Suzuki at this year's Clothes Show Live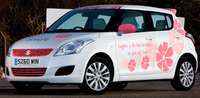 Suzuki has teamed up with the 2010 Clothes Show Live at Birmingham's NEC on 3-8 December to become the show's official car sponsor.
Pre-launch activity will be taking place at the Bullring Shopping Centre in Birmingham on 27-28 November 2010 where Suzuki will be bringing glitz and glamour to the streets with a catwalk event hosted by celebrity guest, Jeff Brazier. Visitors to the stand will be invited to participate in a competition to win a pair of VIP passes to the show, fashion theatre seats and the opportunity to meet the boyband "inju5tice".
For the show, Suzuki has teamed up with the cosmetic brand "Benefit" to produce a uniquely branded All New Swift to be given away as a competition prize. Visitors are invited to come to the Suzuki stand and enter their details into the daily draw to become one of the lucky finalists. On the final day of the show, Wednesday 8th December, finalists will be invited back to find out if they are the lucky winner of the car.
Following on from the success of the Clothes Show London earlier this year, Suzuki will again be joining forces with "What Katie Wore" to find the Clothes Show's most stylish person. Visitors are invited to have their photo taken in their favourite outfit on the Suzuki stand, which will then be uploaded to the dedicated website suzukiattheclothesshow.com with the winner receiving £500 of high street vouchers to spend on clothes.
Suzuki will have on display the Alto and Grand Vitara models as well as the one-off designed All New Swift competition prize. Launched in September 2010 the All New Swift is Suzuki's latest compact supermini. New Swift makes strong developments in styling, impact safety, driving performance and handling as well as offering improved fuel consumption and significantly lower emissions.
To find out more about the Suzuki automobiles range, visit suzuki4.co.uk.