Enjoy Budapest's spas for free this winter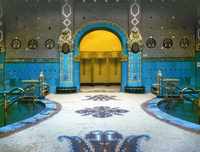 The annual Budapest Winter Campaign, which has been running since 2006 and gives visitors either 'three nights for the price of two' or 'four nights for the price of three' at many of the city's top hotels, goes a step further this year with free admission to a spa.
Visitors to the city from 15 November 2010 to 31 March 2011 will get a free ticket to visit one of three of the city's most popular spas - the Széchenyi, Gellért or Rudas. The aim of this campaign is to highlight spas as a unique attraction of Budapest and marks the start of the Hungarian National Tourist Office's health tourism theme, which will be the main marketing focus for the next few years. Visitors will get free entry to one of the following spas:
Széchenyi Bath and Spa - One of the largest bathing complexes in Europe and the premier medicinal bath of Pest. Its thermal springs were discovered in 1879 and they are the deepest and hottest (74 - 75 C.) thermal wells in the capital. The neo-Baroque baths were built in1913, the swimming pool in 1927. The open-air sections with their pleasantly warm waters are equally popular in winter.
Gellért Baths and Spa - One of most popular baths for tourists visiting Budapest. The medicinal spring here was already famed in the 13th century. The spa is decorated with a wealth of original Art Nouveau furnishings, artistic mosaics, stained glass windows and sculptures.
Rudas Thermal Bath - The bath was built in 1550, and then reconstructed by Pasha Sokoli Mustafa in 1566. Some of the Turkish-period features are still used today: the octagonal pool, the four small corner pools, each with water of a different temperature, and the characteristic Turkish dome. In its drinking hall, the water of the springs Hungária, Attila and Juventus can be consumed for the purposes of a drinking cure.
The web site has lots of ideas and itinerary suggestions for travellers visiting Budapest during the winter time and also helps travellers decide on the 'type' city break they would like, including suggestions around the following themes:
* Romantic city break
* Relaxing city break
* Crazy city break
* Looking for the unexpected
* Looking for a new city
60 of the city's three, four and five star hotels are taking part in the campaign to offer 'free' guest nights and Malev Hungarian Airlines are offering great value flights throughout the winter.
The three-star Best Western Hotel located on the Pest side, just five minutes' walk from the main shopping area of Budapest is offering 'four nights for the price of three'. A four night break costs from just €206 for a double room for four nights for two people, during the winter campaign.
Malev Hungarian Airlines are offering flights from just £82 per person, including taxes, flying from Gatwick to Budapest from now until 31 March 2011, subject to availability.
For more information and to book visit: budapestwinter.com