Unlock the secrets of the Russian Arctic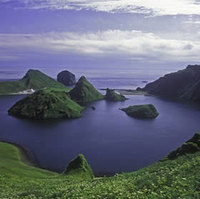 Aurora Expeditions is once again pushing the boundaries of adventure travel with two brand-new voyages to the Russian Arctic; a land of complex history, unique cultures, inspiring landscapes and astounding wildlife.
Discover a region so remote and wild, that few have ever been. The 191 pristine islands that make up Franz Josef Land were the planets last major landmass to be discovered!
Uninhabited, minus a few Russian border guards, this is the realm of the polar bear, walrus, seals and the elusive beluga whale. Only accessible by sea, the region has only been open to foreigners since 1991. This geological wonder really is the world's last frontier, virtually untouched and waiting to be explored!
Aurora Expeditions 'Voyage to the End of the Earth' is a 14-day adventure and one of the only ways to reach this Arctic wonderland. Departing Arkhangelsk, we hope to visit the once forbidden Novaya Zemlya before pushing to the outer limits of the Barents Sea, reaching the ice-capped islands of Franz Josef Land. Prices start from US$8,080 per person.
Steeped in history stemming back centuries, the White Sea is home to an abundant display of ancient cultures. Isolated fishing villages, prehistoric labyrinths, medieval monasteries and harsh gulags; the World Heritage-listed Solovestskiy Islands also offer a magical piece of Russia's north. From mushroom gatherers to Orthodox monks, we meet people who are proud and protective of their remarkable heritage.
'Secrets of the White Sea' will open up a world of exquisite Arctic beauty. Departing Murmansk, this 10-day voyage will showcase the Arctic summer, as it turns tundra-covered coasts of the Kola Peninsula into colourful displays of local wildflowers. Our fleet of Zodiacs will carry us to intimate viewings of spectacular seabird and seal colonies, whilst our experienced expedition staff will help unlock the secrets of this historic-clad region. Prices start from $US6,900 per person.
Both voyages will set sail on Aurora Expeditions brand new ship, Akademik Shokalskiy. This ice-strengthened research ship was built in Finland in 1982. Fully refurbished in 2008, the ship provides accommodation for a maximum of 54 passengers as well as two dining rooms, lounge bar, lecture theatre, sauna and an 'Open Bridge' policy.
Aurora Expeditions' Russian Arctic voyages are staffed by premium expedition leaders, naturalists, historians and geologists and the Russian crew are keen to show off their country's natural beauty - delivering some of the finest expedition cruises in Russia.
Deeply committed to education and preservation of the environment, Aurora Expeditions' philosophy is to respectfully visit these wilderness areas, in turn creating ambassadors for their protection.
To view the full Russian Coast program visit: auroraexpeditions.com.au