A Christmas spectacular in Brazil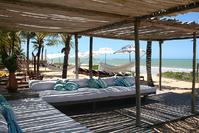 Located on Nativos Beach - one of the most beautiful beaches in the world - and only a short walk away from the historic ,Quadrado' of Trancoso, Villas de Trancoso is an exceptional luxury boutique hotel and pousada.
Running along the colourful cliffs of Trancoso, the 18 hole 'Terravista Golf Course' offers one of the most unforgettable golfing experiences. Part of the course - designed by renowned architect Dan Blankenship - takes you deep into the Atlantic rainforest with lake holes, sand bunkers and jungle boundaries, while the other part is offering breathtaking views of the beach with many of the holes perched right upon the ocean cliffs.
Available Villas
Villa Golf is located in the Terravista Complex. It is a four bedroom villa overlooking the signature 17th hole of the Terravista Golf course. The home includes two decks, three bar areas including sunken pool bar, pond with waterfall, large entertainment center and four bedroom suites that include an upstairs master suite. All rooms have panoramic views. This home also comes with a full time maid and butler/bartender.
The Luxury One Bedroom Villa is spacious and beautifully appointed and includes verandas with hammocks and chairs and large and comfortable master bathrooms. It is set amongst the beautiful gardens and is a very popular choice for honeymoon couples and those seeking a romantic holiday escape.
Prices for 7 nights over Christmas (incl. breakfast):
Luxury One Bedroom Villa R$ 9.500 (+10% service tax)
Villa Golf R$ 32.600 (+10% service tax)
For more information on the property: welcomebeyond.com