Glen Plake on the changing face of California skiing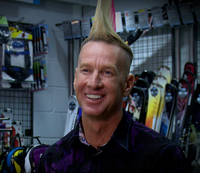 Glen Plake first skied aged two. According to his official biography: "…it was his third-grade teacher who used a Möbius flip from the seminal '70s ski flick Outer Limits as a way of demonstrating math that turned his life. For Glen, there fell into place a connection between skiing and the wider world, an understanding that there were deeper forces beneath this sliding on snow. In that brief flash of insight, Plake knew that skiing held something greater for him."
Ski racing on the U.S. National Mogul Team honed his technical skills. Working with some believers / sponsors, Glen began to change people's perceptions of professional sports, and he is often referred to as the pioneer of action sports. Chamonix exposed Glen to the world of mountaineering, and following in the traditions of extreme skiing, Glen has had first descents in Europe, North and South America, and Asia.
He is known for his appearances in ski films such as Greg Stump's The Blizzard of Aahhhs, and for his trademark Mohawk hairstyle, often dyed blonde, purple or blue. In this video he talks about how skiing has changed over the years, and what he thinks of the current state of the sport.
Glen also talks about skiing in the state of his birth, California – a place you would normally associate with beach life, but don't be fooled!
The two primary destinations are Lake Tahoe and Mammoth Mountain with other lesser-known ski areas Yosemite and Big Bear. California also has one of the longest ski seasons from November up until June – this year Mammoth was open on 4th July.
Here are some other details regarding skiing in California:
- USP of skiing in California is the opportunity to tie in your trip with a city break in LA or San Francisco
- New access to ski regions from gateway cities; United starts daily flights to Mammoth from San Francisco in December
- There are also daily flights from LA to Mammoth with Horizon Airlines
- You can fly from Vegas, LA or San Francisco to Reno to access Lake Tahoe