Luxury living on another level in Malvern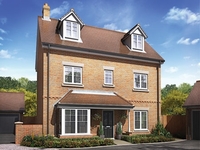 If housebuilder Charles Church's first stunning collection of properties weren't exquisite enough, the final release at the company's Malvern Vale development will really wow househunters as the company boasts yet another fine selection of houses, built to the highest specification.
"Malvern Vale has been popular for a multitude of reasons, in addition to our beautiful array of housetypes, the site's magnificent location, nestled into the foothills of the Malverns, yet close to the heart of the town centre, has made it a very attractive development for couples, executives and families," states Alison Reading, sales director for Charles Church.
The final release of homes is situated at the edge of the development, with wide open countryside to view and take advantage of. The benefits of living in a picturesque environment speak for themselves, which is why the team at Charles Church believes interest in the latest collection of houses will be extremely high.
Alison concludes: "Due to the stage of build, the last phase is currently being marketed at pre-showhome prices, meaning househunters could be very pleasantly surprised at how much house they will be able to afford for their money."
Prices for the development therefore start from £245,995 for a four bedroom design.
Malvern Vale is nestled in the foothills of the beautiful Malverns, giving residents picturesque views of the surrounding area. The historic town centre is just a short drive away and hosts a wide range of amenities including local and high street shops, cafés, restaurants and leisure facilities.
For those wanting to travel further a field Worcester, Tewkesbury and Birmingham are just a short distance away via either the M5 or by mainline train from Malvern's own station.
If you would like to register your interest in the homes available at Malvern Vale, visit the marketing suite open daily from 10am to 5pm.