Beat the VAT rise with Proton - buy now, pay in 2011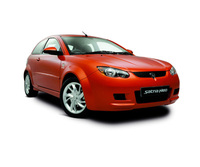 Motorists in the market for a new vehicle can beat the imminent VAT rise by taking advantage of Proton's generous deposit allowances towards the purchase of a new car, when bought via one of its affordable finance schemes.
Just in time for Christmas, and helping motorists to drive an even better deal, customers enjoying the finance deposit contribution scheme will also benefit from Proton's buy now, pay in 2011¹ scheme – available until 31st December 2010 with a minimum 10% deposit required for the 'pay later' offer upon order.
Under Proton's finance deposit contribution scheme, when customers take out a low rate finance option with Proton Finance Limited, they will receive up to £750 towards the fun and spacious 5-door Savvy city car, up to £750 towards the 4 and 5-door GEN-2 saloon or comfortable Persona, £500 towards the LPG dual fuel GEN-2 ecoLogic, and up to £1,250 towards the sporty Lotus inspired 3-door Satria Neo and Satria Neo Sport.
Simon Park, General Manager Sales and Marketing for Proton Cars (UK) Ltd. said: "We know that every penny counts – especially in the festive season. By rolling out this exclusive finance deposit contribution scheme across our dealer network in the UK, we hope that customers will really feel the benefit at a time when every little helps – especially when buying a new car."
To find out more about any of these offers or arrange a test drive, visit proton.co.uk.