New stores boost Bristol's shopping area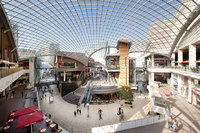 Shoppers in Bristol have greater retail choice this Christmas as many more stores open up for business in the city centre shopping area.
Over the last few months, a series of new stores have been unveiled in the city centre to offer shoppers wider variety and add more value to Bristol's status as the shopping capital of the South West. Over 25 new openings include well-known brands and independent stores to complement the existing retail mix.
Cabot Circus alone has secured the signings of ten new tenants, bringing the scheme to 97% let. Leading the new lettings in Quakers Friars is Sanctuary Spa, renowned as one of the world's leading women-only facilities and famed for its Covent Garden setting. On Penn Street the independent retail offer has also been given a significant boost with the signing of designer boutique Garment Quarter and popular children's store and hair salon Eskimo kids, which moves from Clifton Village to set up its flagship store on Penn Street.
The Mall Bristol (formerly The Mall Galleries) is now home to a new Dr Spafish outlet which offers a natural pedicure treatment using Turkish bred fish to smooth feet. Past Times, Moda in Pelle, Paperbox, Acu-herbs, Family Bargains, Nails Deluxe and beauty salon Aura are also new to The Mall.
Outdoor enthusiasts will be pleased to find Berghaus and Cotswold Outdoor now open in the city centre shopping area. Popular urban clothing chain Fenchurch is another great new addition along with women's fashion retailer Internacionale and a Tesco Phone Shop. Music inspired fashion retailer Pulp, along with board sports specialist Two Seasons is also celebrating the opening of new stores.
Men's underwear store The Package is the latest new opening in The Arcade, offering a range of modern and quirky underwear designs.
Jo Hawkins, City Centre Retail Manager, said: "With the opening of so many different stores in the city centre, Bristol continues to boast a retail offer which is unrivalled in the region.
"It's fantastic to welcome such a broad range of retail outlets into the city centre shopping area at this time. With vacant units at the lowest level for at least 5 years, the future is looking very positive".
Other recent signings to Cabot Circus include female fashion retailer Quiz, as well as card chain Scribbler. The catering offer continues to build with imminent openings for KFC and Spud-u-Like. Christmas festivities have also been enhanced with a dedicated Harvey Nichols foodmarket in Quakers Friars, whilst Carluccio's has also opened a temporary Christmas deli on Concorde Street, offering a wide variety of Italian festive treats.
Kevin Duffy, Cabot Circus Centre Director, said: "We're delighted to see additional stores open up in time for Christmas. These latest lettings take Cabot Circus to 97% let - a considerable achievement given the economic climate. We are also in discussions with potential tenants about all of the remaining units, meaning that we could be almost fully let by the New Year".
In addition to the new stores opening, Bristol has also introduced a range of festive features to enhance the Christmas shopping experience in the city centre this year. Until 22 December shoppers can experience the festive delights of the Bristol Christmas Market which combines traditional German and locally inspired goods in the heart of the city centre.
Cabot Circus has created its very own winter wonderland with its first ever skating rink in Quakers Friars and has had a very successful start, attracting over 1,000 customers in the first two weeks since opening. A lavish Santa's Grotto in The Mall Bristol has captivated children since it opened in November, and Carter's Steam Fair will operate a family fun fair from the 11th December on Bristol's historic Harbourside from Millennium Square, Anchor Square and through to Waterfront Square.
For a full list of Bristol shopping options and Christmas activity, log on to: VisitBristol.co.uk