Panasonic Big Button DECT home telephone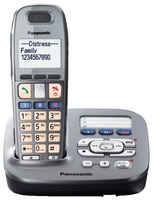 The Panasonic KX-TG6591 cordless DECT home telephone has arrived as the latest addition to the Panasonic DECT phone range. With a large display, large raised buttons, clear sound technology and distress call function, Panasonics Big Button DECT phone is designed for ease-of-use and peace of mind.
The large 1.9 wide, black and white backlit LCD display with large text font size makes the KX-TG6591 easy to read and hence, easily programmable for any user. With Caller ID function enabled , incoming calls can be immediately seen given the clarity of the user-friendly handset display. The generously spaced and tactile raised buttons make manual dialling less fiddly while three, one-touch-dial keys allow quick and easy calling to three preset numbers. The same three preset hot keys are also featured on the base unit and because the base features a built in microphone and speaker, voice communication is still possible even if the handset is not to hand. Furthermore, easily adjustable 7-step ringtone volume control buttons with Increased Volume function located on the handset, means that ringtone volume can be immediately altered to suit the user. The customisable volume setting paired with the built-in ringer LED, increases handset visibility while the phone is ringing and a base unit controlled handset locating function means the handset will never be out of reach for too long. The TG6591 is also hearing aid compatible and offers customisable sound equalizing technology to improve audio clarity and optimise hearing comfort during conversation.
A reassuring feature of the TG6591 is the One-Touch-Dial Distress Call function, for use in the event of an emergency. With similar activation of the hot key function, the distress call function will make automatic and continuous calls to three preset phone numbers until one is answered.
The easily operable KX-TG6591 handset is built to ensure maximum functionality while maintaining Panasonics reputable build quality and graceful design as well as including a range of comprehensive features and performance specifications of top end Panasonic models.