Virgin Media goes big with UK's first true 'quad-play' bundles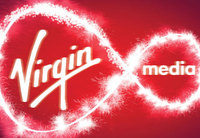 Virgin Media is transforming the way in which home communications and entertainment services can be bought, with the introduction of flexible new Big Bundles.
For the first time, the UK's fastest widely available broadband can now be combined with the country's best value mobile SIM as well as unbeatable value TV and home phone services.
Each Big Bundle can be tailored to suit a customer's individual or family needs with great value extras available to add at any time. This includes the flexibility to take more of any particular service, such as adding Sky Sports or Movies channels.
The first bundles are initially available exclusively for existing Virgin Media customers but will be available to new customers from the end of May.
Every Big Bundle offers Virgin Media's multi-award-winning superfast broadband as standard of at least 50Mb.
For just £45 a month, the 'Big Kahuna' bundle makes the most of the unrivalled power of Virgin Media's network by boasting 152Mb broadband, twice as fast as any other service of scale.
With 152Mb, users can download an HD movie in less than four minutes and an entire music album in a breathtaking four seconds. The ultrafast service really comes into its own though when people go online at home at the same time and need plenty of internet bandwidth.
This market-beating bundle also includes the highly acclaimed TiVo® with over 230 TV channels with over 40 in HD, such as every BT Sport channel, and a home phone service.
When taken as a full quad-play the 'Big Kahuna' includes an exclusive mobile SIM with 250MB of data, unlimited texts and minutes for just £5 extra per month. Families taking this can save over £300 a year versus the nearest comparable services from Sky and the next best value SIM from any mobile operator.*
Another Big Bundle, the 'Big Bang', makes 100Mb broadband available together with TiVo and a home phone talk plan at the unprecedented price of £30 a month. As households do more online than ever before, such speeds are becoming vital to everyday family life yet are unobtainable except from Virgin Media across much of the country.
Dana Strong, chief operating officer at Virgin Media said: "Our fantastic new bundles deliver unprecedented value as standard. For the first time, households will be able to get the best broadband together with the UK's best value mobile SIM, as part of a bundle perfectly tailored to the customer's needs. And I'm delighted our current customers have the chance to enjoy this fantastic new flexibility and unparalleled value first."
Virgin Media TiVo features hundreds of live entertainment channels along with a vast collection of catch up TV and box sets to watch on demand. Virgin Media is the first to have integrated Netflix and YouTube into its TV service, making the most of its intelligent search, recommendation and discovery features. Unlike all other connected set-top boxes, TiVo doesn't slow down a household's broadband thanks to its own dedicated internet connection.
Virgin Media TiVo customers also get access to Virgin TV Anywhere, the UK's largest entertainment-anywhere service, so they can watch their favourite TV channels online or on mobiles and tablets while out and about, wherever there is WiFi, at no extra cost.
The UK's best value mobile SIM tariffs are exclusively available in Big Bundles. All Virgin Media customers can choose from a wide range of exclusive mobile tariffs or receive discounts on other existing mobile services.