Infusion of enthusiasm in Moss Side, Manchester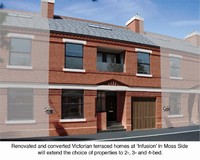 On Tuesday 14 December, the Lord Mayor of Manchester, Councillor Mark Hackett unveiled a cornerstone in the regeneration of South Manchester.
Miller Homes, a partner in the housing led regeneration scheme known as Bowes Street in Moss Side revealed the name and vision for this important development by Manchester City Council.
"We have chosen Infusion as the development's name as it captures our approach" says Carolyn Walsh, Project Sales and Marketing Manager for Miller Homes: "This development will be the blend of the best of modern, innovative design and respect for the traditional architecture of the area. It is the correct mix of homes to maintain and create a vibrant community."
The name was launched to dignitaries, community leaders and local residents. Guests at the lunchtime event included; Councillors Sameem Ali, Alistair Cox and Roy Walters.
The reveal of the name and logo for the development was incorporated into a streetdance performance by Company Fierce Academy. Fierce is a local charity dedicated to using arts to open the educational and life opportunities for young people and runs classes in the local Zion Arts Centre. Miller Homes were glad to be able to support the charity: "The work they do in the area is superb, and the energy they brought to the launch was just right." Says Carolyn.
Infusion is a development by Manchester City Council in partnership with Miller Homes and G.B. Building Solutions and funded by the Homes and Communities Agency. It offers 71 eco-rated homes including 7 new build homes and 64 renovated and converted properties. The renovated homes are being radically redeveloped, with innovative floor plans and designs. All the homes are being built or converted to very high standard of eco-friendliness, with solar panels, water butts, thermal "skin" insulation and sun pipes being used. The new build homes are built to Sustainable Homes Code Level 4. The result will offer a choice of 2-, 3- and 4-bed homes with low running costs.
Councillor Paul Andrews, Executive Member for Neighbourhood Services, said: "Improving housing quality and choice, and increasing owner occupation, is an essential part of the ongoing regeneration of Moss Side and South Manchester as a whole. This new development is part of the wider £17 million transformation of the Bowes Street neighbourhood which is transforming 155 properties in five streets. A shared equity scheme, under which the Council will retain the equity of up to 30 per cent of the property with the owner-occupier meeting the remainder will also help make these homes affordable."
"These homes are not only superb from an ecological perspective – and hence kind to the wallet" says Carolyn "They also deliver a great mix of quality homes at affordable prices for first time buyers and for families. The Infusion of the new with the old promises this will be a great place to live."
For more information on Infusion, the release dates and prices, visit: infusionhomes.co.uk