Celebrate NYE in style at Hotel Monte Mulini in Croatia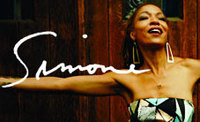 This New Year's Eve the five-star Hotel Monte Mulini has teamed up with American jazz singer and songwriter Simone, daughter of the musical icon Nina Simone, to host a special celebration.
The night will include an exclusive performance by Simone - her first ever in Croatia - followed by a sumptuous seven-course menu in the hotel's Restaurant Mediterraneo.
Simone, a multi-talented artist in her own right, has an incredible vocal range which has received praise from music lovers all over the world. A Broadway star, she has performed in Rent, Aida, and, most recently, Les Misérables. On the evening Simone will be supported by the popular Croatian Jazz Quintet "Soul Station", who will open with vocals from Ivana Star?evi?. Ivana is well-known for her performances at numerous European blues, jazz and swing festivals.
Restaurant Mediterraneo offers sweeping sea views and is the perfect romantic setting for New Year's Eve. The special menu, created by Executive Chef Tomislav Greti?, includes regional delicacies such as heady white truffles, freshly caught seafood and foie gras. Each course can be complemented by the hotel's impressive selection of 550 award-winning Croatian and international wines, recommended by Sommelier Emil Perdec.
Hotel Monte Mulini is located in romantic Rovinj, Croatia's "Blue Pearl of the Adriatic", and is renowned as one of Croatia's most luxurious properties. In honour of Simone's performance the hotel will offer an exclusive New Year package, which includes a two-overnight stay, live music entertainment, a spa treatment, lavish seven-course dinner, and a leisurely brunch on New Year's Day.
Hotel Monte Mulini's two-night New Year package is valid for stays from 31st December 2010 - 2nd January 2011. The price of the package is £690 / €808 per couple.
The package includes:
* Two overnight stays at Hotel Monte Mulini, including breakfast
* New Year's Day brunch until 2pm
* Seven-course New Year's Eve dinner at Restaurant Mediterraneo
* Musical programme on the night by Simone and Soul Station
* A choice of treatment for two from the Art Wellness Spa
* Complimentary use of spa facilities (sauna area, swimming pools and fitness room)
* Prolonged check-out time on departure day until 4pm
* Free Wireless Internet use
* Surprise gift
* Parking
Alternatively the hotel also offers a one-night package for the 31st December only.
For further information and reservations, visit: montemulinihotel.com