Ford Transit is favourite for British Gas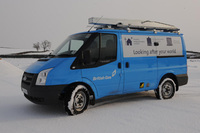 British Gas is to take delivery of 343 Ford Transit medium wheelbase (MWB) vans and 60 all-wheel-drive (AWD) Ford Transits to strengthen its fleet as the UK suffers another harsh winter.
The deliveries will boost the British Gas fleet to well over 1,000 Ford Transits - these new vans will be liveried in the latest British Gas corporate colours. This order is part of the British Gas vehicle replacement programme that will enable British Gas engineers to make an average of 10,000 service calls every day, providing assistance to 12 million homes and a million businesses across the country.
The Ford Transits will be strategically distributed across Britain to help British Gas achieve even better attendance rates at homes and businesses suffering heating problems during adverse weather conditions.
Colin Marriott, general manager of the British Gas fleet, said: "We have been using Ford Transits for several years now and they are proving very reliable. Ford offer well-engineered vans combined with great after-sales service making them the best option for our expanding fleet. The Ford Transit is also very economical, offering the lowest cost of ownership in its class over a five-year, 60,000-mile life cycle."
Kevin Griffin, director of fleet operations, Ford of Britain, said: "It's reassuring to know that British Gas which provides such a lifeline to its customers – particularly during extremely bad weather – is putting its faith in Britain's most popular van, the Ford Transit. It is a testament to the popularity and reliability of the Ford Transit that British Gas now have over 1,000 on their fleet."
Ford Transit
The AWD system automatically provides stepless torque flow to the front wheels when traction loss at the rear is detected – assisting customers who frequently tackle low friction surfaces and bad weather conditions.
Ford have sold over 47,000 Ford Transits in 2010.
Since its launch in 1965 more than six million Transits have been built at 22 factories across the world.