Unique tour of Japan for Bonsai enthusiasts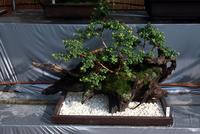 Specialist operator, Japan Journeys is offering a unique tour for Bonsai enthusiasts in February 2011.
This includes exclusive access to some of the world's greatest Bonsai nurseries and collections - plus a visit to the Kokufu show, Japan's most important Bonsai exhibition.
There will also be the opportunity to take in many of Japan's other cultural highlights, including a visit to the Todaiji Temple, the world's largest wooden building, as well as a trip on the famous Bullet Train.
But Bonsai fans will be able to go to the largest Bonsai village in Japan at Kinashi with over 270 gardens and visit another one at Omiya on the outskirts of Tokyo.
The tour is from 8-18 February and costs £2,075 per person sharing, with a single room supplement of £225. This includes scheduled air fare, nine nights hotel accommodation, breakfast, transfers, a welcome & farewell dinner and the services of a knowledgeable Japan Journeys guide throughout.
For full details, visit: japanjourneys.co.uk