Another year of achievement for Citroen commercial vehicles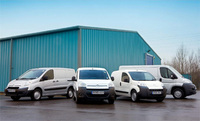 2010 has been another year of achievement for the advanced, 'green' and efficient Citroen LCV range. During 2010, Citroen has added range-topping Nemo, Berlingo, Dispatch and Relay Enterprise models with new and relevant comprehensive specifications, including air conditioning, rear parking sensors and Bluetooth, to retain its competitive advantage in an increasingly demanding market.
Citroen has also continued to develop advanced telematics, to move even further ahead of the competition. To deliver major cost, productivity, safety and emission benefits, 2010 saw the standardisation of the unique Trafficmaster Smartnav satellite navigation and Trackstar stolen vehicle tracking package on all Berlingo, Dispatch and Relay panel vans. In addition, all Nemo and Berlingo First vans, Berlingo and Dispatch platform cabs, and Relay chassis cabs/chassis crew cabs can be optionally specified with this unique telematics package at a heavily subsidised price of just £399 + VAT, including three years' subscription.
This advanced telematics package offers the productivity and safety boosting benefits of: a nationwide safety camera alert system, traffic congestion avoidance, congestion charge zone warnings, as well as the most up-to-date satellite navigation systems available. The Trafficmaster telematics platform enables any Citroen LCV, so equipped, to be optionally specified with Fleet Director real-time fleet management for just £19.99 + VAT per month.
Citroen's LCV range continued its award-winning progress in 2010 with the following major independent accolades:
Nemo, iVan 'Light Van' Award
Dispatch, iVan 'Compact Van' Award
Citroen, Fleet Van 'Green Van Manufacturer of the Year' Award
Nemo - the 'UK's Most Economical Van' (81.93mpg) in the ALD Automotive/Total ECO 10
MPG Marathon
CitroenReady to Run Programme, What Van? 'One-Stop-Shop' Award
Robert Handyside, Citroen's Commercial Vehicle Operations Manager, commented: "In a tough year, Citroen has moved ahead of the competition to deliver significant financial, environmental and productivity gains thanks to its unique package of advanced engineering and sophisticated telematics. When it comes to green LCV efficiency Citroen's outstanding performance continues to be recognised with major independent awards."