SunSplash Antalya: Europe's hottest music festival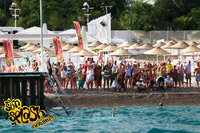 The ultimate luxury holiday for dedicated music lovers is back for a third instalment and BBC Radio One's newest presenter, Benji B, is taking to the turntables for the first time.
SunSplash Antalya is Turkey's Biggest Little Festival and is held between 22 and 29 May 2011. It's based at the spectacular Hillside Su Hotel on the Turkish Riviera and promises the best dance music in the world through a series of club sessions, sunset beach parties and chilled out days around the Olympic size pool.
This boutique festival combines style, luxury travel and serious dance music for discerning ears. Limited to just 400 guests, SunSplash Antalya is a connoisseur's addition to the sun-seeking European festival scene, presenting a healthy blend of music, art, travel, food and good living.
The festival promises a fantastically friendly crowd, unrivalled hospitality, an extraordinary venue, stunning accommodation, no waiting in queues, no moody bouncers or dodgy loos, just a blissful week of Sun, Sea, and Legendary Music.
Artists already confirmed – apart from Benji B – are the legendary Mad Professor, jazz sensation Jose James, DJs Gilles Peterson, Norman Jay, Phil Asher, Kon and Amir.
Accommodation packages at the Hillside Su start from just £225 per person for three nights in a double room. A festival only ticket costs £189 for seven days.
For direct flights to Antalya from the UK try Thomas Cook, Pegasus, BA, Monarch or Easyjet. Flights cost from £189 return.
For more information, visit: sunsplash-antalya.com