BMW ends year on a high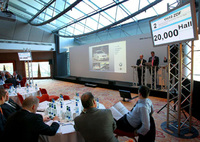 A special BMW Closed 'virtual auction', staged at the Park Plaza Riverbank, London on 9 December saw 325 cars offered live via a giant screen by BCA's auctioneers to over 100 BMW dealers.
The sale achieved a turnover that exceeded £9.2 million – the highest recorded in 2010 - and was equivalent to 113.8% of CAP Clean and 107.1% of Glass's Guide values. With an average selling price of £29,700, the sale achieved 73.3% of original cost new across the board, with ex-management cars averaging 80.7%.
The sale included a number of models making their used market debut, including the MINI Cooper D Countryman, NEW 520d, 525d and 530d models, M Sport and SE Touring and the X5 X Drive 4.0d M Sport.
MINI Cooper D Countryman averaged a remarkable 94.5% of original cost new, while the entry of 71 ex-management X-series models on offer averaged 86.1%. The 25-strong selection of BMW X1's averaged 90.5%, with the X5 range averaging 86.1%.
The BMW Open sales programme also recorded strong results as the year closed. In particular, there was massive demand for the 4WD X-series models – 3, 5 and 6 – which averaged 118% of CAP Clean across the board in December.
BMW's Group Remarketing Manager Tony Dean commented "Our partnership with BCA continues to generate outstanding results that represent the best that can be achieved whatever the prevailing market conditions. The virtual sale generated a substantial turnover and the exceptionally strong price performance against both guide prices and original cost new reflect the strength of our product offering."
He continued "In addition, our open sales programme has gone from strength to strength in 2010, with December continuing to record strong results despite reports of the general used market softening in recent weeks."
BCA's National Account Manager Simon Young commented "BMW and BCA have struck a successful balance of high profile dealer events and a well-supported nationwide open sales programme to deliver some exceptional results in 2010. Our 2011 programme is equally exciting and we look forward to maintaining the momentum of this special partnership next year."