Give your heart another reason to pound this Valentine's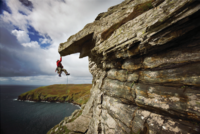 Allow the Isle of Man to offer you a breathtaking Valentine's Day experience this year.
The diverse selection of adventure activities to be found on the Island provides an alternative romantic getaway guaranteed to get pulses racing for more than one reason this February 14th.
Abseiling, rock climbing and gorge scrambling are just a selection of activities available on the Isle of Man for adrenaline junkies looking for high-octane Valentine's thrills. Taking advantage of the rugged landscape and coastal rocks, couples can enjoy an exhilarating challenge set in picturesque, romantic surroundings. However, for those wishing to embrace the traditional aspects of the celebration, there is also the chance to play Cupid. Archery forms part of an exciting Valentine's package from the Island's Adventure Centre which includes shooting and an assault course for an afternoon of adventure activities.
Exploring the island on horseback provides another way to say 'I love you' this Valentine's Day. What could be more romantic than whisking your partner off to the Island and exploring the beautiful countryside with its stunning views and unspoilt beaches on the riding treks that span across the hills and coastline? The Ballahimmin Riding Centre offers tailored packages to suit all levels and requirements.
After a day of long day of strenuous, adventure activities, why not head down to 14North, a new restaurant located on Douglas' North Quay, to sample their special Valentine's Day menu. This includes six courses for £35 per head and features an array of local produce such as the famous Queenies and award winning Manx beef.
It is well documented that sporting activity triggers the release of endorphins but less widely know is the important role played by endorphins in maintaining a strong level of attraction between couples. As a result, an adventure holiday is the ideal way to add some extra sparkle to your relationship! The Isle of Man is just one hour's flight from most UK airports so sweep the love of your life off their feet and escape to the Island for your own romantic adventure.
To find out more about Valentine's Day on the Isle of Man this year see visitisleofman.com/valentinesday which features all the packages and activities in this release.
Valentine's Day packages
Sefton Special
Includes: Return flights, 1 night at the Sefton on Bed & Breakfast basis with Pre- Dinner drinks in the Atrium, candlelit 2 course meal, private performance from Tenor Martin Toal.
Flying from London Gatwick from £389 per person
Flying from Blackpool from £339 per person
Provided by Regency Travel
Claremont Hotel
Includes: 3 nights accommodation at Claremont, arriving on a Friday. Free night included plus a free up-grade to a romantic Platinum Seafacing Room. Valid for travel 01 Feb – 30 Sept, but must book by 31 March to receive the upgrade.
Flying from Liverpool from £199 per person
Provided by Premier Holidays