Fashion Fringe at Covent Garden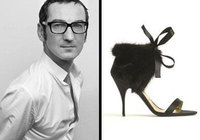 Fashion Fringe at Covent Garden is delighted to announce Roger Vivier as their Partner for their 2011 Accessories platform with the aim to find and support emerging creative accessories designers.
Chaired by Roger Vivier's Artistic Director, Bruno Frisoni, the initiative aims to discover and nurture new accessories design talent with a once in a lifetime prize of a 6-month apprenticeship at Roger Vivier.

Monsieur Roger Vivier was born in Paris in 1907 and studied sculpture at the Beaux Art in Paris for two years before moving to shoemaking. Fascinated by theatre and music halls, he first encountered Josephine Baker for whom he began designing custom-made shoes which in turn led to the opening of his first shop on the rue Royale in 1937. Famed for creating shoes like sculptures, M Vivier is credited with inventing the stiletto in 1954. His shoes were worn by leading figures all over the world including Queen Elizabeth II, Brigitte Bardot, Elizabeth Taylor, Jacqueline Kennedy and The Beatles. Roger Vivier's legacy and tradition of excellence has been revived since 2003 under the artistic direction of Bruno Frisoni and continues to enchant the leading ladies of today from Cate Blanchett, Nicole Kidman, Scarlett Johansson and Penelope Cruz. Alongside footwear, the Roger Vivier offering has expanded its range of accessories to include handbags, sunglasses and jewellery.

Born in France in 1960 to Italian parents, Frisoni began his career with mystical fashion designers working alongside Jean-Louis Scherrer, Lanvin and Christian Lacroix. In 1995 he decided to work on his own and began collaborating with the House of Trussardi, Givenchy and Yves Saint Laurent Rive Gauche under Alber Elbaz. This strong Couture experience developed his taste for 'haute fantasy' designs and in 1999 he launched his first shoe collection.

In 2003 Bruno Frisoni accepted the honour of reviving the famous Roger Vivier brand alongside Ines de la Fressange as Brand Ambassador and muse, and with natural grace, has given form to the dreams of women searching for the exceptional. Inventive and free, Frisoni creates Roger Vivier designs that speak to the woman who has found balance between femininity and progress. Passionate about contemporary art, Frisoni defends a faithful and modern interpretation of Roger Vivier's values: sophistication, rarity and eccentricity. In an accessories collection of footwear, handbags, jewellery and eyewear, Frisoni has rediscovered and transformed Roger Vivier's exceptional heritage to bring it striding into the future.

The apprenticeship has been designed to provide the winner with intensive exposure to all aspects of the luxury accessory business from design and development, to dealing with the press and wholesale account management.

"I was lucky to be able to follow my dream. Therefore for me it is a privilege to play but a small part to encourage our next generation of young designers to create their own visions - to set out on their adventures with confidence and conviction and with the support of Fashion Fringe Accessories these may become a unique reality…." Bruno Frisoni

Colin McDowell says "I knew Roger Vivier and had the greatest admiration for him as a man, craftsman and artist, so I am very thrilled to have Fashion Fringe associated with his name and the prestigious company that has been so brilliantly refocused and modernised by Bruno Frisoni, who I also know very well, and admire every bit as much as his illustrious predecessor"

Candidates, who do not need to be formally trained, can apply through the Fashion Fringe at Covent Garden website (fashionfringe.co.uk) where 5 finalists will then be selected to present their application and be judged on their creativity and business acumen. This will include interviews with Artistic Director Bruno Frisoni and a judging panel.

Past winners of Fashion Fringe at Covent Garden Accessories include Helen Robotham (2009) who was awarded a six month apprenticeship at the iconic luxury accessories label, Jimmy Choo and as a result of this extraordinary experience is now working as an Accessories Designer for Burberry. Liam Fahy, who has recently launched his own label, was awarded the first ever Fashion Fringe at Covent Garden Accessories apprenticeship, selected by a judging panel chaired by Manolo Blahnik to take on a 10 month paid internship at Rupert Sanderson which included an exclusive opportunity to move to Italy to work at the Rupert Sanderson factory.

Fashion Fringe at Covent Garden is pleased to have the continued support of the following Partners: Covent Garden London, American Express, Davenport Lyons and DHL. Fashion Fringe at Covent Garden is an IMG event.