Interactive 'Ouch Map' experiment launched in UK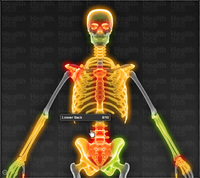 A fun, interactive social media experiment has been launched today to map minor injuries and see which parts of the body Brits hurt most – the world's first Ouch Map has been launched by UK online health insurance provider Health365.com.
Whilst data on more serious accidents and injuries involving hospitals and GPs is more readily available, less is known about the more frequent and often annoying bumps and bruises, grazes and scuffs that do not require medical assistance.
The Ouch Map has been launched to monitor those minor injuries – from paper cuts and stubbing your toe to biting your tongue and bending a nail back – in real-time using an interactive Twitter app and a glowing skeleton.
Anyone who has an 'ouch' moment can Tweet the part of the body hurt, together with a pain rating from 1-10 and the hashtag #ouch365 – the injury is logged real-time on an interactive human skeleton at health365.com/ouchmap.
The social media experiment is believed to be the first of its kind anywhere in the world and is being run by Health365.com, which offers online health insurance from as little as £15 per month.
Paul Shires, Sales & Marketing Director for Health365.com, said: "Our Ouch Map is a fun, interactive experiment to see which parts of the body give us the most 'ouch' moments.
"It is an interesting, real-time test which will visualise an as-it-happens map of minor injuries and we hope it will show that health issues and health insurance needn't be dull or boring."
For further information on taking part visit: health365.com/ouchmap