British Airways returns to Morocco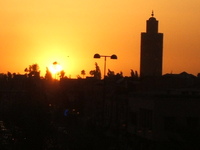 Morocco has been an increasingly popular destination in recent years for Brits who enjoy the wide choice of luxurious riads and hotels available, particularly in Marrakech and Essaouira, and also for those who have been investing in a riad of their own, such as actress Stephanie Beacham, who has a property on the Atlantic coast (bookable though Fleewinter).
Morocco is closer to the UK than many European destinations (under 3 hours) yet it is like arriving in another world and, because it is outside the Eurozone, the country is considerably cheaper than many others.
However, those who prefer to stay in some of Morocco's more luxurious accommodation were horrified in March 2008 to see British Airways drop the London-Marrakech route, having sold their aircraft to Easyjet.
Three years of Easyjet and Ryanair ensued but as of 1 April 2011 (exactly 3 years later) British Airways will re-commence flying to Marrakech from Gatwick.
UK operator Fleewinter has hundreds of properties to choose from both in the cities and on the coast, including Riad Meriem, arguably the most stylish riad in the whole of Marrakech. The riad, which sleeps 10 people in five bedrooms, is owned by famous New York designer Thomas Hayes, who spared no expenses in decorating the property with Moroccan antiques and artefacts (the property was also described by House & Garden as one of the most beautifully designed hotels in the world).
Be one of the first to experience British Airways' new route and take advantage of Fleewinter three-night breaks to Riad Meriem from £390 pp (2 sharing) including flights, transfers, and B&B accommodation.
For more information, visit: fleewinter.com