Quality vintage knitwear finds new home online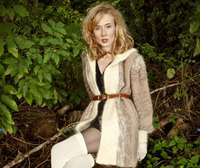 Quality Knitwear (QK), the exciting new boutique vintage knitwear company, officially launched its online shop this week at qualityknitwear.co.uk.
QK takes a fresh look at vintage pieces, offering some of the cutest and quirkiest knitwear hand-picked from around the world, with an emphasis on style and quality. The website showcases the best and most comprehensive range of patterns and styles in the vintage market, with an ever-evolving collection of unique pieces to suit all tastes.
The current collection includes a great range of quirky and classic cardigans, jumpers, dresses and sweaters incorporating all styles from classic Arans, Guernseys and Fair Isle knits to 80s mohair, Nordic knits and the more contemporary 'geek-knit' style Cosby sweaters. As the company name suggests, quality is paramount and QK's range focuses on natural fibre pieces, many of which are original handknits guaranteeing that their knitwear is not only stylish and on-trend but also long-lasting. In short, it's 'keepsake fashion' at its best!
Quality Knitwear was founded by Lucy Grimble a 24 year old PR executive from London:
"I've always had a passion for knitwear, but found that I was often disappointed by the quality of some of the pieces on the market. With Quality Knitwear I hope that I've been able to not only create a collection filled with personality, charm and individuality, but one which is also affordable and of the highest possible quality"
Prices start from £29. For more information, visit: qualityknitwear.co.uk