DVLA returns to North West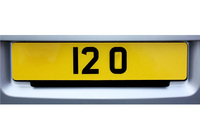 DVLA Personalised Registrations is returning to the North West - where its past two annual sales have surpassed all expectations.
The first auction of 2011 will see DVLA auctioneers in action at the Imperial War Museum in Manchester from Wednesday, February 2 – Friday, February 4.
The sale will include 1,500 personalised registrations with reserves ranging from as little as £250 through to £10,000 which has been set for the event's "star" plate – 12 O. So far, DVLA has reaped more than £1.2 million from its O series encompassing registrations 1 O, 2 O and 1 OOO to list just three.
The past two auctions staged in the North West – at Wychwood Park, near Crewe, in 2009 and at Old Trafford, home of Manchester United, in 2010 – raised £3.1 million and £3.5 million respectively.
Damian Lawson, DVLA Personalised Registrations' Marketing Manager, said: "While our auctions prove popular, sales in the North West always prove to be exceptional and we have high hopes for our forthcoming event."
In total, DVLA's forthcoming auction will comprise 1,500 registrations chosen to offer an eclectic mix to suit all tastes, styles and budgets including; AAM 333R (reserve £400), ALF 4R (£400), AKH 79R (£350), ASH 333F (£400), 777 CB (£2,600), DOC 700R (£400), 4 EPM (£1,900), 9 JLR (£1,900), LAU 666H (£600), LET 11T (£400), L154 JEN (£400), L154 YES (£350), NOT 145T (£400), 12 O (£10,000), 5 OOO (£4,000), VEG 4N (£400).