Experience Cornwall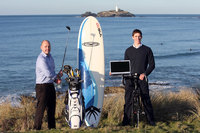 Cornwall is becoming increasingly renowned as an experience rich destination with the thousands of visitors who come to the county every year.
Now one of Cornwall's leading self-catering holiday companies - Aspects Holidays - has launched a brand new website offering holidaymakers the opportunity to pre plan and book a wide range of uniquely Cornish activities and experiences.
experiencecornwall.com provides visitors to the county - whether Aspects customers or not - with access to over 20 fully organised experiences - from Surf lessons (starting at £30 for a half day) to Coasteering (£40) and Sea Fishing (£25) to Llama Trekking (£32).
The launch of Experience Cornwall means Aspects Holidays can now offer the range of experiences, alongside over 200 self-catering properties stretching from St Ives in West Cornwall right up to the St Mellion resort complete with its Jack Nicklaus designed golf course on the Cornwall/Devon border.
"Visitors to Cornwall choose to visit here not just because it is a beautiful place, but as a result of the many different experiences that the county has to offer literally 12 months of the year.
"But what they don't want to do is waste their precious time scouring arrivals packs or local Tourist Information offices once they are here to find local information and literature on things to do. What Experience Cornwall allows them to do is look through a really wide array of fully organised and managed activities - for people of all ages and interests - and book them online - either before they arrive or as soon as they get here.
"We have pulled together a really fantastic range of activities from the more active pursuits of surfing, rock climbing and mountain biking right through to golf, tennis, fishing, food and drink and vineyard tours, and we will be adding to these in 2011. We even have bush craft skills and Llama trekking on offer for those people looking for more unusual activities!" said Damian.
"We are an experience-rich destination and the goal with Experience Cornwall is to make selecting, booking and enjoying some of the very best activities the county has to offer as easy as possible - whether they are an Aspects guest or are coming to Cornwall on holiday," he added.
To see the range of experiences on offer visit: experiencecornwall.com