Celebrate National Yorkshire Pudding Day on 7th February!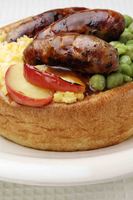 On a cold winter's day, one of the most comforting things is a traditional roast dinner topped with a Yorkshire Pudding. And what better reason to cook up a mid-week roast, than to celebrate National Yorkshire Pudding Day on Monday 7th February?
Yorkshire's aren't just for Sunday roasts, and as National Yorkshire Pudding Day is on a Monday this year, why not celebrate with something a little different? Why not try some more unusual ways to use the famous British pud?
• Serve cooked mince beef and carrots, a bolognese sauce, or even chilli con carne with Yorkshires, instead of potatoes or rice
• Serve sausages and baked beans with a Yorkshire pud, for a tasty lunch or supper
• Enjoy a late brunch with crispy fried bacon and hot Yorkshire puds drizzled with delicious maple syrup, for an American style breakfast
• A great sofa snack for watching TV is Aunt Bessie's Midweek Mini Yorkshires, to dip and dunk into sour cream and sweet chilli sauce
Whether it's the Tasty Giant Yorkshire, Tempting Bite Size Yorkshires, or even the Perfect for Chicken Yorkshire Puddings - there's an Aunt Bessie's pud to suit any occasion.
Giant Yorkshire Puddings filled with Sausage and Creamy Mash
Serves: 2
1 twin pack of Aunt Bessie's Tasty Giant Yorkshires
4 sausages, variety of your choice
4 red potatoes
50g of frozen peas
2 large tomatoes
Aunt Bessie's gravy granules
Yorkshire Puddings with Raspberry Sauce
Serves: 12
1 pack Aunt Bessie's Irresistible Yorkshires
200g raspberries
75g icing sugar
75ml full bodied red wine
2.5cm piece lemon peel
15ml lemon juice
Vanilla ice cream
For more delicious recipes from Aunt Bessie's, visit: auntbessies.co.uk