KHA 1N falls to Leicester bidder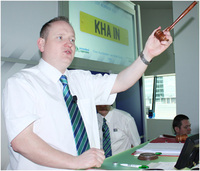 Interest surrounding the personalised registration KHA 1N was immense especially from the Asian community where private registrations are clearly prized possessions.
But it took a winning bid of £12,000 from Leicestershire businessman Mark Smithson to secure it during the second day of DVLA Personalised Registrations' first auction of 2011 here at the Imperial War Museum, Manchester.
With all 12 phone lines booked for external bidding, the internet listing at an all time high with bidders and a packed auction room, Mr Smithson calmly seized his moment to grab what he believes is a "sound investment".
He said: "Khan is a hugely popular name, especially in my home town of Leicester, so when I spotted KHA 1N in the auction I just couldn't resist speculating with a bid and fortunately I won it. It is a sound investment."
Damian Lawson, DVLA Personalised Registratons' head of marketing said: "Personalised Registrations are hugely popular throughout the Asian community, four out of our top five all time highest sellers were distinctive Asian names so were bracing ourselves for the KHA 1N sale, incredibly Mr Smithson coolly stole the show."
The sale includes 1,500 personalised registrations with reserves ranging from as little as £250 through to £10,000 which has been set for the event's "star" plate – 12 O. So far, DVLA has reaped more than £1.2 million from its O series encompassing registrations 1 O, 2 O and 1 OOO to list just three.
In total, DVLA's forthcoming auction will comprise 1,500 registrations chosen to offer an eclectic mix to suit all tastes, styles and budgets including; AAM 333R (reserve £400), ALF 4R (£400), AKH 79R (£350), ASH 333F (£400), 777 CB (£2,600), DOC 700R (£400), 4 EPM (£1,900), 9 JLR (£1,900), LAU 666H (£600), LET 11T (£400), L154 JEN (£400), L154 YES (£350), NOT 145T (£400), 12 O (£10,000), 5 OOO (£4,000), VEG 4N (£400).